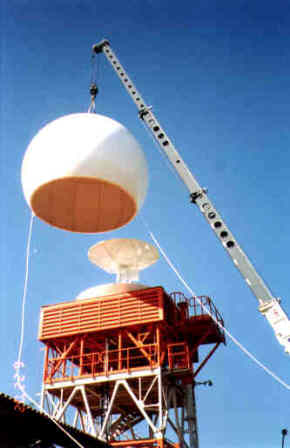 6.7m (22ft) diameter S-band sandwich radome
installation in Manaus, Brazil.

Ocala, Florida, September 04/Internet --- Antennas for Communications (AFC) announced today that it was awarded a contract with Enterprise Electronics Corporation (EEC) for the manufacture of radomes supporting the Doppler weather radar for the SIVAM project in the Amazon region of Brazil. The contract calls for the manufacture of 10 units 6.7m (22ft) diameter impedance matched sandwich S-band radomes and installation support.

"AFC is proud to be a member of the EEC/SIVAM team," said Dr. Ronald S. Posner, AFC's CEO. "We appreciate the confidence shown to us by Atech, Amazon Tech and the Brazilian Air Force."

The Amazon region in Brazil covers an area of 2.2 million square miles and contains the largest tropical rainforest in the world. It is also an area suffering from a wide range of problems-- illegal gold mining, deforestation at a rate of over five million acres per year, drug production and smuggling, and conflicts over land use between the indigenous people of the Amazon and more recent settlers.

To help them meet these challenges, The Government of Brazil devised a system that will be used to identify, utilize and protect the precious resources of the Amazon region. The system --called the System for the Vigilance of the Amazon, or SIVAM--will help to solve these problems. SIVAM will use a wide range of sensors--from stationary radars to satellites to geophysical monitors--to gather extensive data from the Amazon region. This information will be used by the Government of Brazil to protect the sensitive environment of the Amazon, improve air safety, increase the accuracy of weather forecasting, assist in the detection, prevention and control of epidemics, help to manage land occupation and usage, and ensure effective law enforcement and border control.

Raytheon Corporation will coordinate the project along with Fundação para Aplicações de Tecnologias Críticas (ATECH) –a Brazilian Foundation focusing on the application of critical technology and its US subsidiary, Amazon Tech --and Embraer –a Brazilian aircraft manufacturer.

The sensors and the systems to be implemented include receiving stations for imaging and weather satellites, primary and secondary air traffic control radar, weather radar, environmental data collection platforms, surface and altitude (balloon) weather stations, air navigation aids, equipment to intercept and locate electromagnetic signals; radio and telephone communications, FAX, modem, and computer facilities for over one thousand site locations, aircraft instrumented to verify accuracy of navigation aides, aircraft outfitted with surveillance radar, aircraft equipped with synthetic aperture radar, and spectral/infrared imagery capability.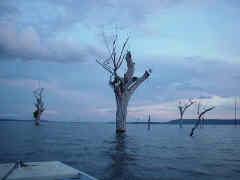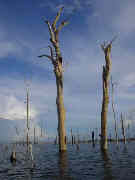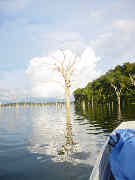 Uatuma Biologic Reserve, Amazon Region, Brazil
SIVAM interconnects more than 900 remote locations with 3 Regional Surveillance Centers in Manaus, Porto Velho, and Belem and a central General Coordination Center located in Brasilia. Data is collected from satellite, aerial sensing and surveillance, fixed and mobile radar, radio-localization, meteorological stations, weather radar and altitude weather balloons. Each of these information sources generates different data types that are aggregated into a unified database. Networks of computer workstations will provide for processing of the unified database, the development and use of application software and program development tools, the management and use of the extensive databases from varied sources, as well as for the training support of system users.

Antennas for Communications manufactures satellite and terrestrial antennas, radomes, microwave and waveguide components and Tallguide ®, an ultra low transmission loss waveguide. The company serves the satellite, broadcast, communications, cable, radar, weather and government industry worldwide.
/Contact. Dr. Ron S. Posner of Antennas for Communications, (352) 687-4121.

For more information on AFC's radome product line, please refer to AFC's Radome Network Home Page.
A complete Internet WWW AFC site index may be found in Antennas for Communications (AFC) Home Page Document Summary List. Additional press announcements may be found in the press release section of the site index.

 Return to AFC Profile  Return to Radome Network Home Page   Return to AFC Home Page


Antennas for Communications
2499 SW 60th Ave, Ocala, FL 34474
Tel (352) 687-4121 Fax (352) 687-1203 Email sales@afcsat.com

Tallguide is a Registered Trademark of Antennas for Communications
Copyright © 2002 Antennas for Communications